Introduction
About this topic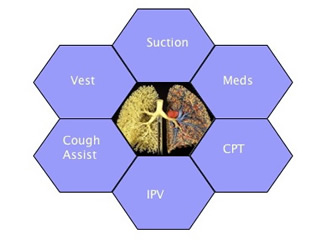 Welcome to the lesson devoted to airway clearance. There are several ways to facilitate airway clearance in the child with a tracheostomy. This lesson will discuss the different methods including suctioning, airway clearance medications and bronchial hygiene modalities.
Suctioning is the most common procedure done for a child with a tracheostomy. Proper suctioning techniques can reduce potential complications that can occur as a result of improper technique. Assessment of airway secretions enables the caregiver to recognize the signs of concern such as infection, dehydration, or other potential complications.
If airway clearance is needed, it can be achieved in a variety of ways. Sometimes it can be achieved with a pharmacologic approach using various inhaled airway clearance medications. These medications are administered directly to the airway to maintain open airways. Bronchodilators, mucolytics and steroids achieve this in different ways. Airway clearance can also be achieved with bronchial hygiene modalities such as chest physiotherapy, Intrapulmonary Percussive Ventilation (IPV), Cough Assist device (Mechanical Insufflator-Exsufflator), and High-Frequency Chest Wall Oscillation (HFCWO) Vest.
What you will learn
After you complete this lesson you will be able to do the following:
Describe the different methods of airway clearance and when they are needed.
Recognize the importance of correct technique when performing airway clearance to prevent unnecessary complications.
Determine when a child needs to be suctioned.
Use recommended suctioning technique including use of normal saline and manual ventilation.
Assess tracheal secretions for important characteristics such as color, consistency, odor, and amount.
Explain how medications can assist with facilitation of airway clearance.
Getting the most from this lesson
To learn more from this lesson we recommend that you approach it in the following way:
Read through the information on the home page. The concept viewers give you additional information about the underlined terms.
The lecture contains the primary content for the lesson.
Work through the learning activity to apply the information from the lecture.
You will be ready for the quiz after you have completed all components of the lesson.